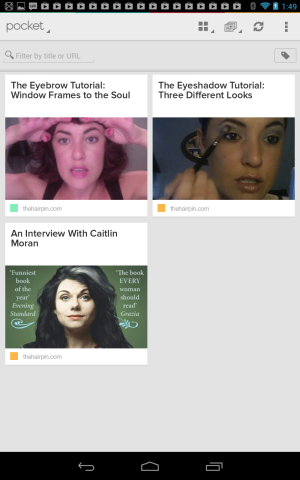 The duel for our hearts between Pocket and Instapaper is a remarkably close one. Pocket, an evolution of the tool formerly known as Read it Later, just barely edges out Instapaper for its ability to handle images and videos with a little more grace.

If this category were simply for choosing a reading app, this would be a dead heat. Both Instapaper and Pocket allow for resizing and changing fonts, changing color schemes, and have seemingly useless brightness tuners. Pocket's font sizes extend farther down into the smaller sizes; Instapaper offers more font choices, the ability to change line spacing, and more granularity for column width. Both allow users to perform bulk actions on their content; Pocket offers tags for organizing, while Instapaper offers folders.

But Pocket allows users to save videos and images and view them within the app. We don't see ourselves using Pocket for images, but we've saved videos to Instapaper a fair few times, knowing it was little better interface-wise than sending ourselves a link in e-mail. Pocket doesn't cache the video for offline viewing the way both Pocket and Instapaper will create offline versions of articles for reading, but we appreciate not having to redirect the app to its own browser, or relocate to Chrome, just to watch a video.

https://play.google.com/store/apps/details?id=com.ideashower.readitlater.pro&feature=search_result#?t=W251bGwsMSwxLDEsImNvbS5pZGVhc2hvd2VyLnJlYWRpdGxhdGVyLnBybyJd